My Story
Many of us enjoy upping the ante on the spice level. My story is no different and it is the start of my love affair with chilli and the reason for my creation of Tabchilli.
I have spent the better half of my life traveling across Africa, Latin America, Southeast Asia and the Indian subcontinent. One common factor across the different cuisines and chilli recipes I have come to enjoy, is that wonderful, intriguing and complex flavor are there to be discovered.
There is no doubt that chilies should heat your palette; but I always felt that there is more to it then chilli pain. To enjoy chilli, simply put, when you taste it, it should not overwhelm you to the point of losing your taste buds; rather, it should release steady building heat while maintaining complex texture and flavor, Umami like.
This was the start of my Tabchilli journey. Out of all the varieties, I chose to tame the heat of the Thai Chili bird – a versatile chili that is extremely sharp to the taste around the 100'000 Scoville level ; yet, beneath the discomfort of the scorching heat that capsaicin brought, hid rich flavors, so subtle, that they required developed heat tolerance to identify them.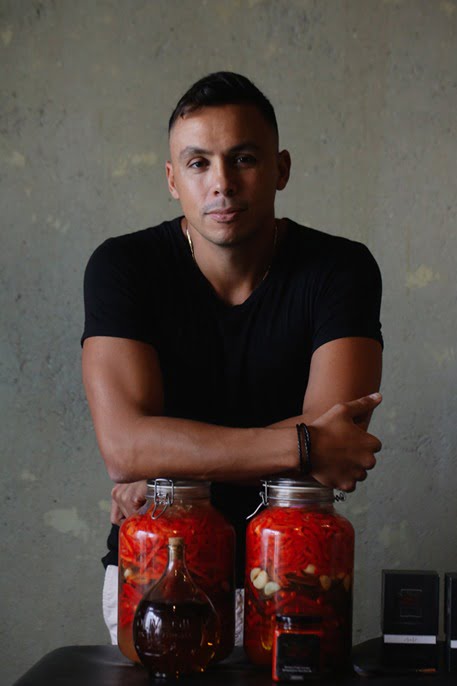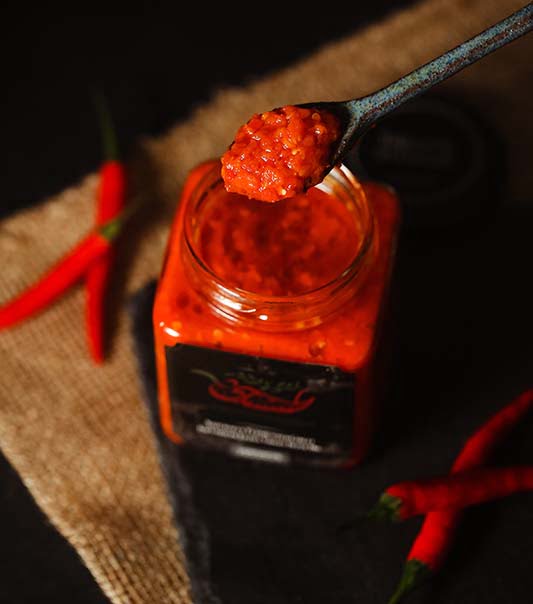 To release and unpack those flavors, I chose to "cook" the chili using the art of wild fermentation, exploding that umami flavor from those little dragons. An imperfect slow process which I let mother nature lead, with a bit of help from ingredients sourced only by hand using old techniques handed down by generations, the culmination? A patient blending of heritage through centuries old traditions – bringing pure chilli and mother earth flavors to your taste buds.
With numerous trials and errors leading to the perfect balance and a recipe I could now fully enjoy, I decided to craft one more detail. Handmade terracotta spoons crafted specifically for every batch, the perfect way to ensure a clean tasting process and the preservation of mother earth's flavors. My definition of craftsmanship from start to finish.
My passion for Tabchilli requires a lot of patience, as everything takes time to mature. Once ripe and completed, the taste is intricate enough to bring appreciation to all the traditions involved in making it imperfectly balanced.
Tabchilli as a final product, is a slow release of steady building heat merged with tangy and umami flavors derived from pure chilli and nothing else. It is end to end craftsmanship, uncompromised.
Please beware though, once you try it you will start calling it by name: Tabchilli.
Welcome to my world!
Maher Tabchy(illi)