Introducing the Beef Steak Salad, a flavorful and satisfying dish that is perfect for lunch or dinner. This recipe is a great way to enjoy a juicy and well-seasoned steak paired with various fresh and pickled vegetables, marinated feta cheese, and a tangy, spicy yogurt sauce. The dish is garnished with soy nuts which add a nice crunch and nutty flavor.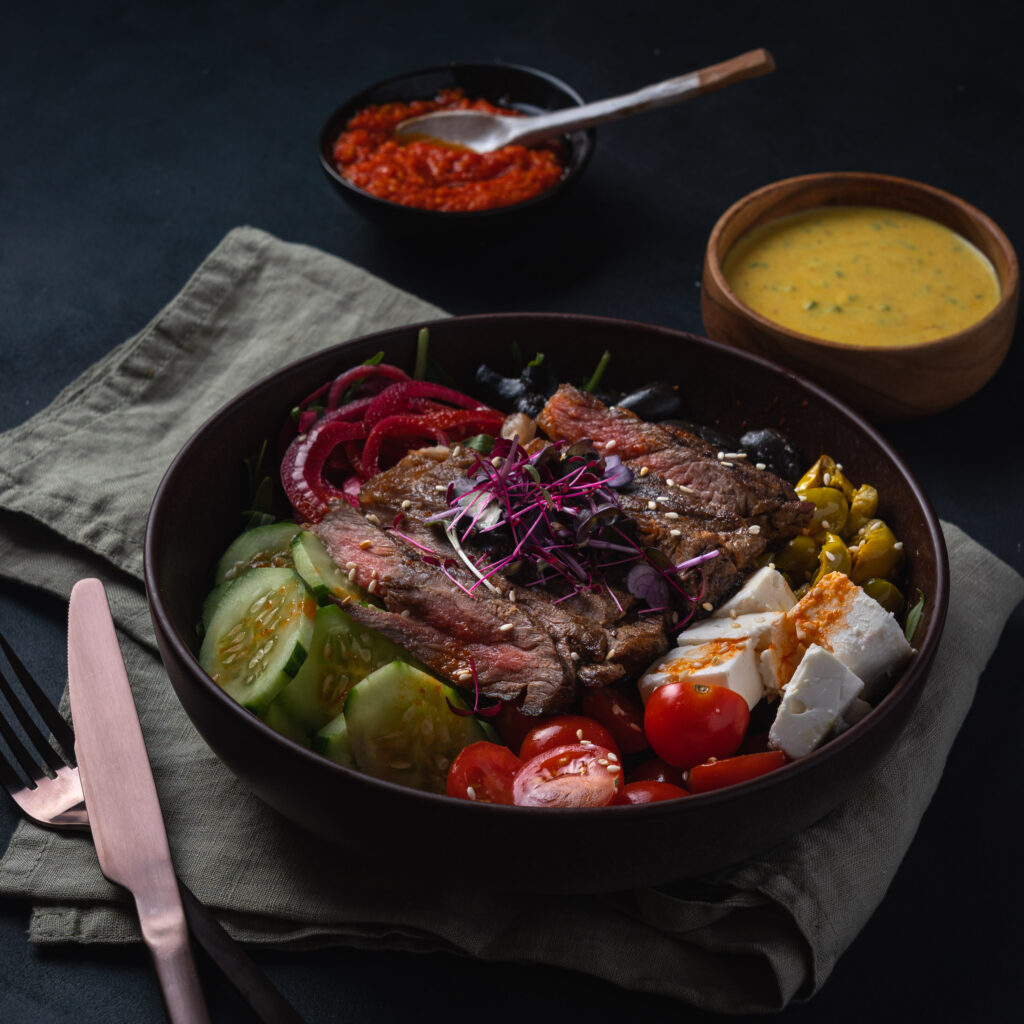 Recipe: Beef Steak Salad
Amount Produced: 1-PORTION"
Ingredients:
160 g Beef Steak(butter, salt, cracked pepper)
15 g Cucumber Slice
15 g Fresh Cherry Tomato
20 g Pickled Beetroot with tab oil/sesame white
20 g Mix lettuce
15 g Marinated Feta Cheese
15 g Green Olives
25 g Spicy Yogurt Sauce
5 g Soy Nuts(garnish)
Procedure:
Rub the steak with salt and pepper, and set your pan on high heat, and add the butter.
Start to sear the steak for 4 to 5 minutes on each side and rest before you slice.
Assemble the salad on a plate and set aside the spicy yogurt sauce in a ramekin.
Drizzle the Tabchili Hot Sauce oil over the salad, add some salt and pepper and mix well.
Recipe: Pickled Beets
Amount Produced: 3kg
Ingredients:
2.5 kg Beetroot Peeled
1200 ml Rice Vinegar
800 ml Water
600 grams Sugar
40 grams Lemon Grass
20 grams Ginger Crushed
5 grams Pepper Whole
3 pcs Green Chili Small
6 pcs Bay Leaves
4 grams Salt
Method:
Roughly chop beets into large pieces.
Boil beets on medium heat until soft. Add all the ingredients into another pot and bring to a boil-simmer for 5 minutes, then remove and cool.
Once the beets are cooked, strain and let cool.
Dice the beets into small cubes, add to pickling liquid and keep in the chiller.
Recipe: Spicy Yogurt Sauce.
Amount Produced:
Ingredients:
2 cups Plain Yogurt
30 g Cucumber seeded diced small
1 tbsp Fresh Mint chopped
1 tsp Salt
1 tsp Paprika
1 tsp Turmeric Powder
1/2 tsp Cumin Powder
1/2 tsp HOT SAUCE DUBAI Sauce
1 tbsp Lemon Zest
Method:
In a mixing bowl, whisk all ingredients together and place in the refrigerator covered until serving time.
Serve garnished with mint leaves, fresh lemon zest, and a sprinkle of paprika on top and chili oil.
Recipe: Soy Roasted Nuts
Amount Produced: 350g
Ingredients:
250 g Almonds
100 g sunflower seeds
3 g chilli flakes
30 g soy sauce
2 g Cracked pepper
Method:
Mix all ingredients in a bowl, then put on a tray and roast at 180 degrees for 7 minutes.