Mediterranean Tabchili Hot Sauce Salmon Bowl
The Mediterranean Tabchili Hot Sauce Salmon Bowl is a flavorful and healthy dish that combines marinated Tabchili Salmon Fillet with various fresh and vibrant ingredients. The bowl is made up of a mix of lettuce, avocado, red onion, feta cheese, roasted walnuts, cherry tomatoes, cucumber, fresh mango, blueberries, and alfa sprout. It is finished off with a tangy mango dressing and a lemon wedge on the side. This dish is perfect for lunch or dinner and will satisfy your cravings for both taste and nutrition.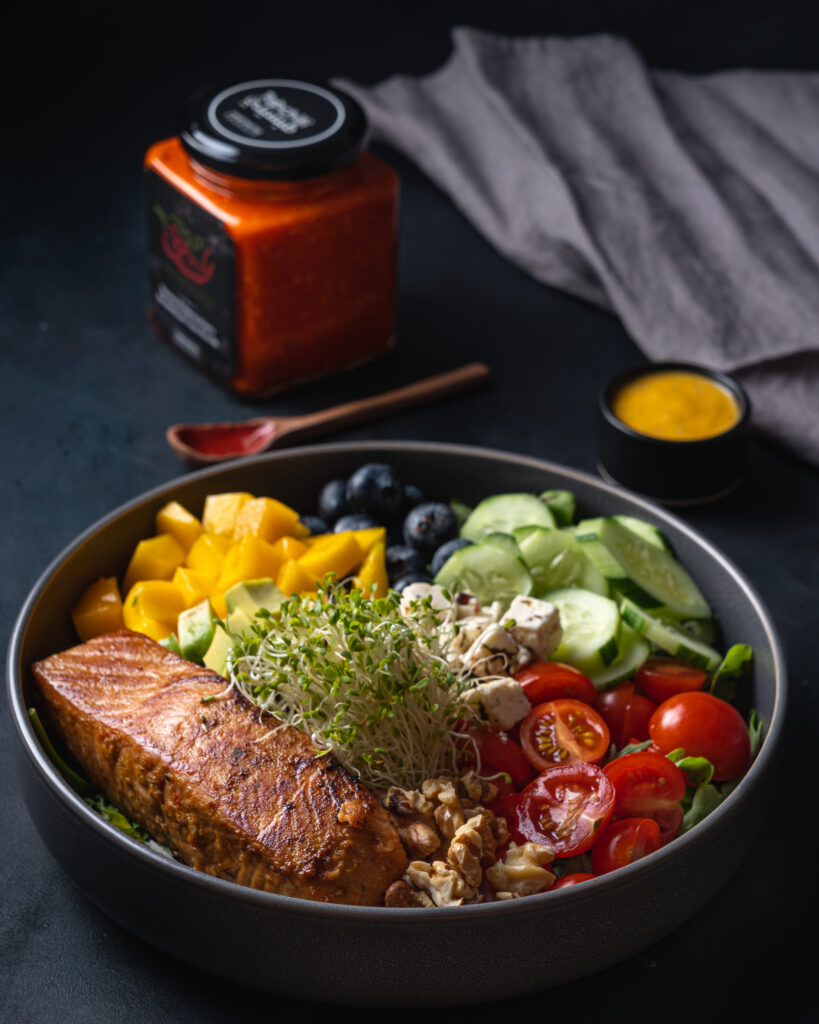 Recipe: Mediterranean Tab Salmon Bowl
Amount Produced: 1-PORTION
Ingredients:
140 g Marinated CHILLI SAUCE DUBAI Salmon Fillet 
30 g Mix Lettuce 
15 g Avocado DIced 
5 g Red Onion Slice 
15 g Feta Cheese 
5 g Roasted Walnut 
12 g Cherry Tomato(slice) 
12 g Cucumber(slice) 
12 g Fresh Mango diced cut 
10 g Blueberry 
2 g Alfa sprout 
1 pc Lemon Wedge 
25 g Mango Dressing
Procedure:
Pan-sear the salmon in vegetable oil for 2 to 3 minutes on each side and finish in the oven, skin down.
Begin to assemble the salad on a plate.
Place the mango dressing in a ramekin on the side.
Recipe: Tabchili Hot Sauce Marinated Salmon
Amount Produced: Varies
Ingredients: 
420 g Salmon Fillet(3 fillets) 
1/4 cup Soy Sauce Light 
1/4 cup Olive OIL 
3 tbsp Mustard 
2 tbsp Honey 
5 g Garlic Cloves 
1 tsp Dried Oregano 
1 tbsp Tabchili Hot Sauce Paste
Method:
Add all ingredients into a jar and shake well. Marinate the salmon in the mixture for at least 30 minutes before cooking.
Recipe: Spicy Mango Dressing
Amount Produced: varies
Ingredients: 
270 g Mango Fresh Diced/Frozen 
1/4 cup Lime Juice 
2 tbsp Orange Juice 
2 tbsp Honey 
1/2 tsp Cumin powder 
3 g Garlic peeled 
1 tsp Salt 
1/3 cup Olive oil 
1 tbsp Tabchili Hot Sauce paste 
2 tbsp Coriander 
1/4 tsp Ground Black Pepper
Method:
Combine mango, lime juice, orange juice, honey, cumin, garlic, and salt in a blender container, and puree on medium speed until smooth. Transfer to a medium-sized jar.
Add oil to the mixture in the jar in a slow, steady stream while stirring continuously with a fork or small whisk.
Add Tabchili Hot Sauce paste, coriander, and black pepper. Taste and add a bit more salt if needed.
Store in the refrigerator for up to 1 week. Shake well before using.