Fermented Hot Sauce: Unveiling the Sustainable Heat
Hot sauce lovers, get ready to savor the sustainable side of spice! Fermented hot sauce has been making waves in the culinary world, not only for its explosive flavors but also for its sustainable qualities. In this article, we will take a deep dive into the facts surrounding fermented hot sauce and its sustainable benefits compared to traditional hot sauce. Prepare yourself for a flavorful journey that nourishes both your taste buds and the planet.
Harnessing the Power of Fermentation:

Fermentation is a centuries-old preservation method that transforms food using naturally occurring bacteria and yeast. When it comes to hot sauce, fermentation works its magic by converting sugars and starches into acids, creating a symphony of flavors and textures unique to fermented varieties.

Tackling Food Waste:

One of the most significant sustainable advantages of fermented hot sauce lies in its ability to combat food waste. Around the globe, staggering amounts of produce are discarded due to imperfections or oversupply. However, through fermentation, these overlooked ingredients find a second chance at greatness. Fermented hot sauce allows us to repurpose surplus or imperfect produce, reducing food waste and supporting sustainable agricultural practices.

Lower Carbon Footprint:

Compared to traditional hot sauce production, fermented hot sauce boasts a lower carbon footprint. Traditional methods often involve energy-intensive cooking processes and extensive packaging requirements. In contrast, fermentation relies on the natural conversion of ingredients, minimizing energy consumption and waste. By choosing fermented hot sauce, you contribute to a more sustainable future by reducing greenhouse gas emissions associated with production and transportation.

Extended Shelf Life:

Fermented hot sauce demonstrates impressive natural preservation properties, eliminating the need for excessive packaging and artificial preservatives. Through the fermentation process, hot sauce develops an acidic environment that inhibits the growth of harmful bacteria. This extended shelf life reduces food waste at the consumer level, as well as the need for additional packaging materials, resulting in a more sustainable product.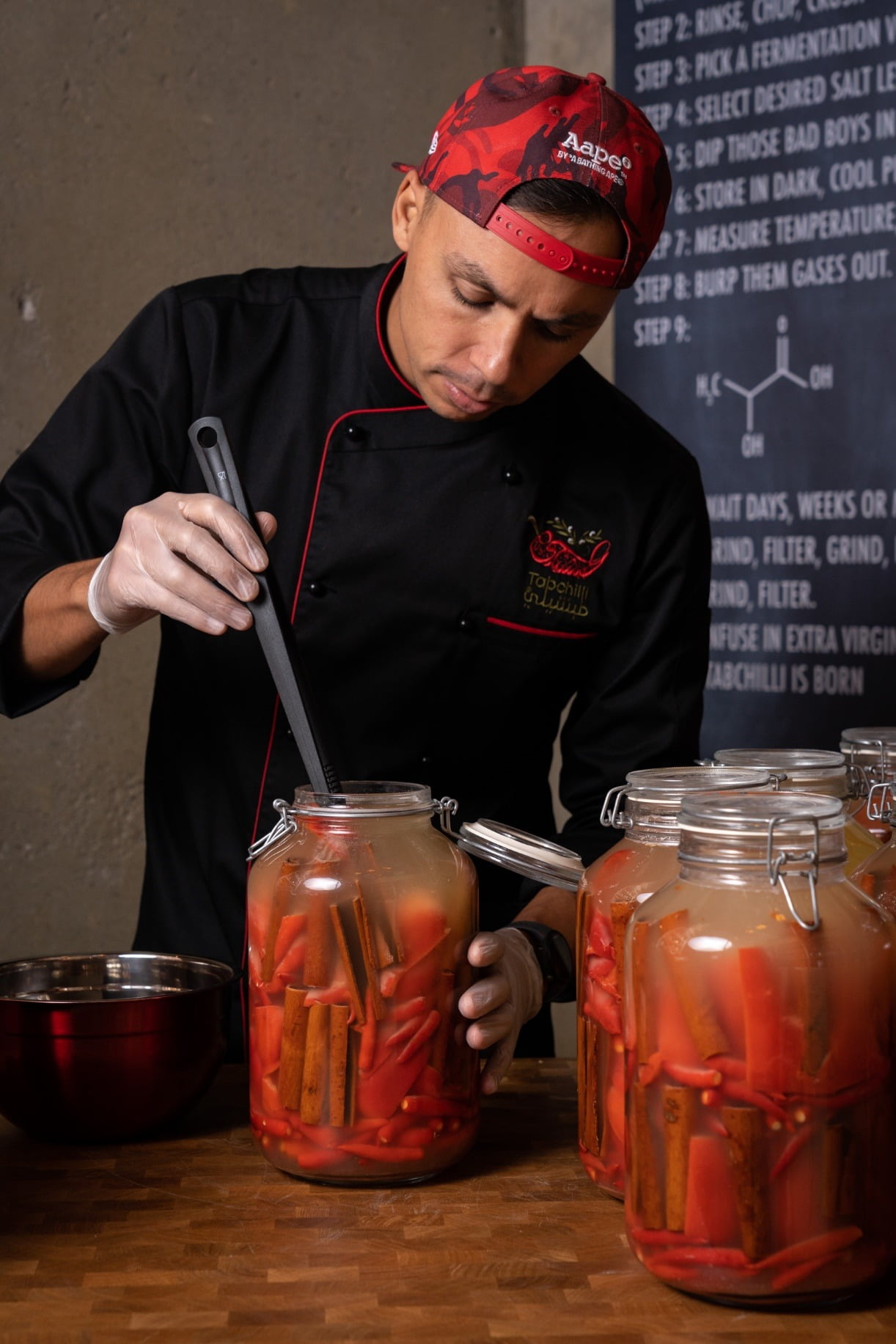 Promoting Local and Ethical Sourcing:

Fermented hot sauce often champions local and ethical sourcing practices. Many small-batch producers prioritize partnering with local farmers who follow sustainable and organic agricultural methods. This approach helps support regional economies and promotes biodiversity while reducing the environmental impact associated with long-distance transportation and mass production. By choosing fermented hot sauce, you actively contribute to the growth of local communities and sustainable farming practices.

Nutritional Benefits:

Beyond its sustainability merits, fermented hot sauce offers nutritional advantages as well. The fermentation process encourages the growth of beneficial bacteria, known as probiotics, which can enhance digestion and promote gut health. These live microorganisms may contribute to improved immune function, nutrient absorption, and overall well-being. By incorporating fermented hot sauce into your diet, you're not only adding a burst of flavor but also potentially supporting your own health.

Water Conservation:

In addition to reducing food waste and lowering carbon emissions, fermented hot sauce also contributes to water conservation. Traditional hot sauce production often requires significant water usage for irrigation, washing, and processing. Fermented hot sauce, on the other hand, relies on the natural fermentation process, which minimizes the need for excessive water consumption. By choosing fermented hot sauce, you're indirectly conserving water resources, promoting a more sustainable approach to food production.
Preserving Biodiversity:

Sustainable hot sauce production goes beyond reducing waste and supporting local farmers. Many fermented hot sauce producers prioritize the use of diverse and heirloom varieties of chili peppers, supporting biodiversity. By utilizing unique and lesser-known chili pepper varieties, these producers help preserve genetic diversity and prevent the loss of traditional crops. This commitment to biodiversity strengthens the resilience of agricultural ecosystems and ensures a rich tapestry of flavors for future generations.

Engaging in DIY Culture:

Fermented hot sauce offers an opportunity for individuals to engage in a do-it-yourself (DIY) culture, promoting self-sufficiency and reducing reliance on commercial food production. Many enthusiasts have started fermenting their own hot sauces, utilizing local and seasonal ingredients. By embracing DIY fermentation, you can actively participate in sustainable food practices, experiment with flavors, and develop a deeper connection with the food you consume.

Inspiring Culinary Creativity:

Fermented hot sauce's unique flavors and complex profiles inspire culinary creativity. Its tangy and umami-rich taste complements a wide range of dishes, from traditional recipes to innovative fusion cuisine. By incorporating fermented hot sauce into your cooking, you can explore new taste combinations, reduce the need for excessive salt or artificial flavor enhancers, and make sustainable choices in your everyday meals.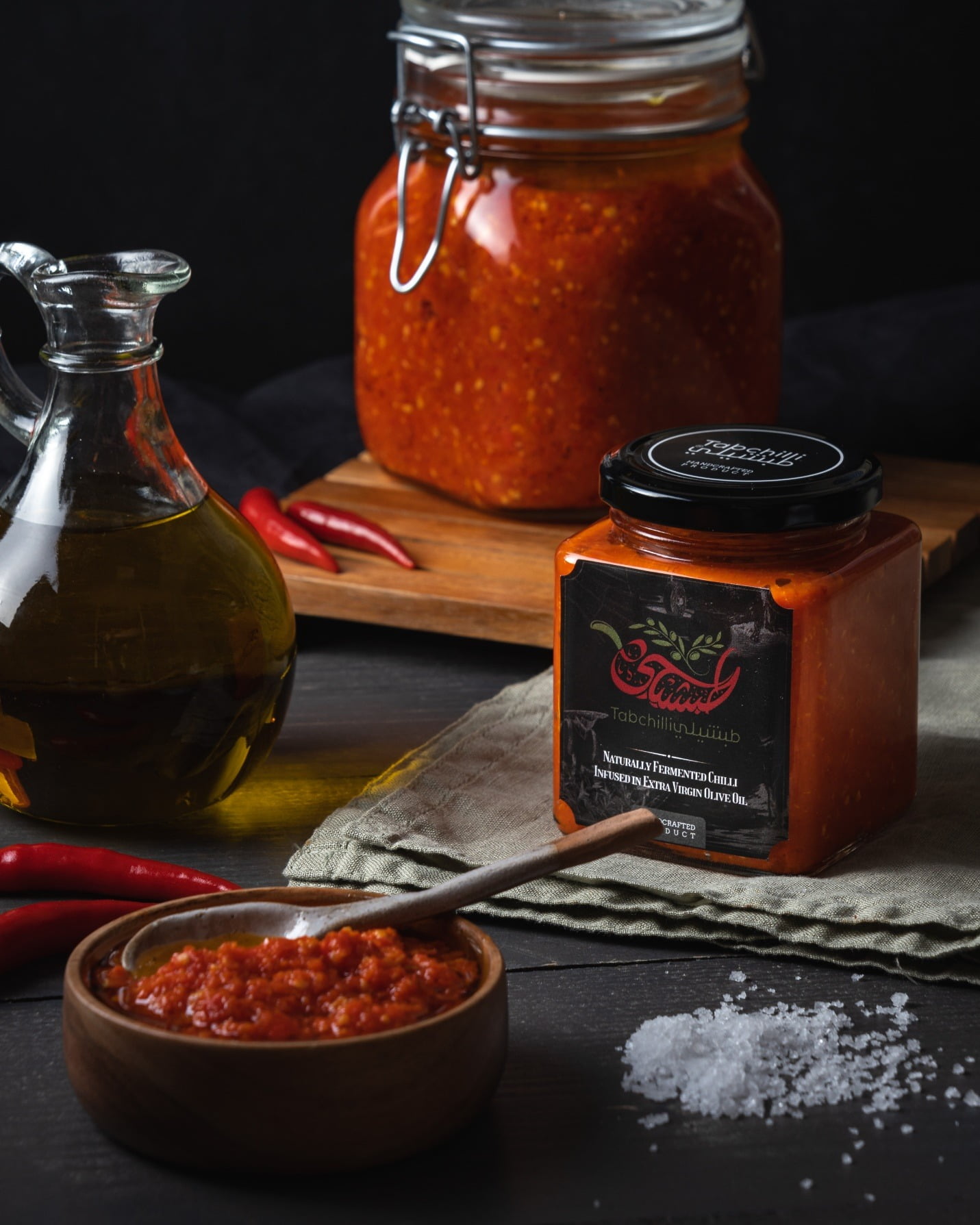 Spreading Awareness and Inspiring Change:

Choosing fermented hot sauce sends a powerful message about the importance of sustainable food choices. By sharing your enthusiasm for fermented hot sauce with others, you can spread awareness about the benefits of sustainable eating. Encourage your friends, family, and community to explore the world of fermented hot sauce, sparking conversations about food waste, local sourcing, and the impact of our food choices on the environment. Through collective action, we can inspire change and contribute to a more sustainable and delicious future.
Conclusion:
That is why at TABCHILLI, we have chosen fermentation as the foundation for our hot sauce. We are passionate about creating a sustainable product that not only satisfies your cravings for heat and flavor but also aligns with your values. By utilizing the power of fermentation, we reduce food waste, lower our carbon footprint, support local farmers, and promote biodiversity. Our commitment to sustainable sourcing and production ensures that every bottle of TABCHILLI hot sauce carries the essence of a better future.
As you reach for that bottle of TABCHILLI fermented hot sauce, know that you are not just adding a burst of flavor to your meals; you are actively participating in a movement towards a more sustainable and delicious world. Together, we can make a difference—one spicy drop at a time. Join us on this flavorful journey and let the sustainable heat of fermented hot sauce inspire you to embrace a more conscious and environmentally friendly approach to your culinary adventures.