Looking for a delicious and unique appetizer or side dish? Look no further than these crispy halloumi fries! Made with crispy breaded halloumi cheese sticks, fresh celery, carrot sticks, and a spicy tab marinara dip, this dish is sure to be a crowd-pleaser. Perfect for any occasion, from a casual get-together with friends to a special event. Follow the recipe below to make the perfect halloumi fries.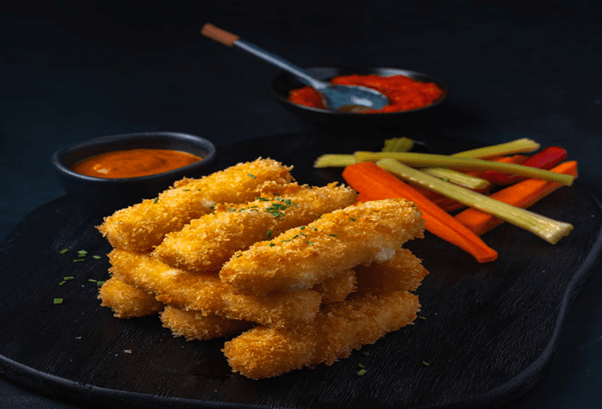 Recipe: Halloumi Fries
Amount Produced: 1 PORTION
Ingredients:
6 pcs Crispy Halloumi Fries Sticks
5 pcs Fresh Celery Stick
5 pcs Fresh Carrot Stick
25 g Spicy Tab Marinara Dip
Procedure:
Assemble all ingredients on a plate of your choice.
Recipe: Breaded Halloumi Cheese
Amount Produced: Varies
Ingredients:
225 g Halloumi Cheese
750 ml Vegetable Oil
2 cups Panko Breadcrumbs
2 pcs Eggs beaten
2 tbsp Plain Flour
1 tsp Smoked Paprika
1 tbsp Milk
Method:
 Slice your block of halloumi into 6 equal chunks (12 in total). Pat dry with a paper towel to remove moisture.
Line up 3 bowls: the first one is for your flour and smoked paprika, the second is for your beaten eggs, and the third is for your breadcrumbs. Dip each halloumi slice into the flour mixture, eggs, and breadcrumbs, and coat each slice evenly.
Heat up oil in a large pot/pan to 180 degrees. Carefully lower 3-4 halloumi slices or as many as can comfortably fit without sticking into the oil and deep fry until golden.
The temperature of the oil will drop slightly, which is fine but try to bring it back up to 180 degrees after each batch. The halloumi slices are done when they are a deep golden color, with the halloumi cheese inside being nice and soft.
Remove the halloumi slices with a slotted spoon and place them on a wire rack with a paper towel to drain the excess oil.
Note: Don't place them directly on a paper towel or they risk turning soggy.
Recipe: Spicy Tab Marinara Sauce
Amount Produced: Varies
Ingredients:
3 tbsp Olive oil
2 tsp Tabchili Hot Sauce paste
50 g White onion finely diced
10 g Garlic Minced
550 g Peeled Tomatoes
1/2 cup Fresh Basil leaves roughly chopped
1 tsp Salt
1/2 tsp Cracked pepper
2 tbsp Italian spice
Method:
Heat olive oil in a large saucepan over medium-high heat, add the chili paste, and saute for 2 minutes, stirring occasionally. 
Add the diced onion and saute for 5 minutes or until softened and translucent, stirring occasionally. 
Next, add the minced garlic and saute for 2 more minutes or until fragrant, stirring occasionally.
After that, add in the peeled tomatoes and stir to combine. Continue cooking the sauce, breaking up the tomatoes with a wooden spoon as you go until the sauce reaches a low simmer. 
Reduce the heat to medium to maintain a steady simmer, and let the sauce continue to cook uncovered for about 25 minutes, occasionally stirring until it has thickened and reached your desired consistency.
Stir in basil, Italian spice, salt, and pepper. Taste the sauce and season with extra salt, pepper, and Tabchili Hot Sauce paste as needed. 
Let the sauce cool and blend to become puree, and refrigerate it in a sealed container for up to 4 days.