How long should I ferment my vegetables for optimal results?
The optimal duration for fermenting vegetables can vary depending on several factors, including the type of vegetables, desired taste, and environmental conditions. However, as a general guideline, most vegetables are fermented for a period of 1 to 4 weeks to achieve the desired flavor and texture.
During the fermentation process, beneficial bacteria and yeast gradually convert the sugars in the vegetables into lactic acid, resulting in a tangy and flavorful product. The duration of fermentation influences the taste profile, level of acidity, and texture of the vegetables.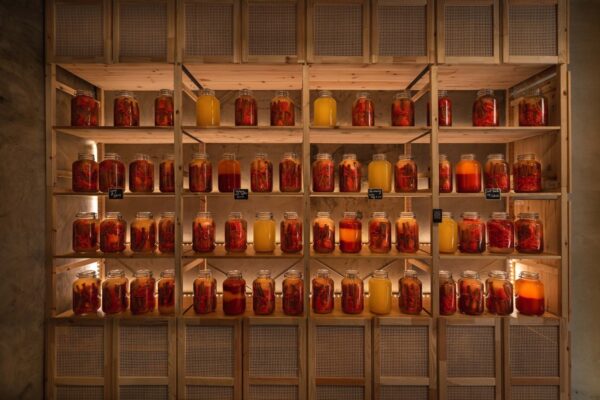 To determine the ideal fermentation time for your vegetables, consider the following factors:
Taste preference:

Fermentation time affects the intensity of flavors. If you prefer a milder taste, a shorter fermentation period of around 1 to 2 weeks may be suitable. For a more pronounced tanginess and complexity, a longer fermentation of 3 to 4 weeks may be preferred.

Vegetable type and size:

Different vegetables have varying densities and moisture content, which can impact the fermentation process. Harder vegetables like carrots or beets may require longer fermentation compared to softer vegetables like cucumbers or zucchini. Larger vegetable pieces may also need more time for the fermentation to fully develop flavors.

Environmental conditions:

The temperature of the fermentation environment plays a crucial role in the fermentation process. Warmer temperatures accelerate fermentation, while cooler temperatures slow it down. Adjust the fermentation time accordingly based on the temperature conditions. It's generally recommended to ferment vegetables at room temperature, around 18-24°C (65-75°F).

Personal experimentation:

Fermentation is both an art and a science, and personal preference plays a significant role. Feel free to experiment with different fermentation times to find the flavor and texture that you enjoy the most. Start with the recommended time frames and adjust as needed based on your taste preferences.
It's important to regularly monitor your fermenting vegetables. Taste them periodically to assess the level of acidity and flavor development. Once you achieve the desired taste and texture, it's time to stop the fermentation process by transferring the vegetables to the refrigerator to slow down further fermentation.
Remember, the fermentation process is not an exact science, and results may vary. Trust your senses and make adjustments based on the specific characteristics of the vegetables and your personal taste preferences.