Is the white film on the surface of my vegetables mold?
Determining whether the white film on the surface of your vegetables is mold can be a bit tricky. While mold is a possibility, there are other factors to consider as well. Here are a few things to help you assess the situation:
Normal Fermentation:

In some cases, a white film or residue can be a natural byproduct of the fermentation process. It can be harmless yeast or bacteria that have formed on the surface. This is more likely to occur if you are fermenting in an open crock or if you have not used an airlock system to create a sealed fermentation environment.

Kahm Yeast:

A common type of harmless yeast that can develop on the surface of fermented vegetables is called Kahm yeast. It appears as a white or cream-colored film and often has a wrinkled texture. Although it is not mold, Kahm yeast can affect the flavor of your ferment, giving it an off-taste or making it more sour. It is usually safe to scrape off the surface film and continue with the fermentation.

Mold Growth:

On the other hand, if the white film has fuzzy or powdery patches, or if it is accompanied by an unpleasant smell or discoloration, it is more likely to be mold. Mold can be green, black, blue, or other colors, and it can indicate a problem with your fermentation, such as improper hygiene practices, insufficient salt or acid levels, or inadequate submersion of vegetables in the brine.
To determine if the white film is mold or a harmless byproduct, you can follow these steps:
Smell

Take a whiff of the ferment. If there is an unpleasant or pungent odor, it is more likely to be mold.

Texture:

Gently touch the surface film. If it feels slimy, fuzzy, or powdery, it is more likely to be mold. If it has a wrinkled or smooth texture, it could be yeast or a harmless residue.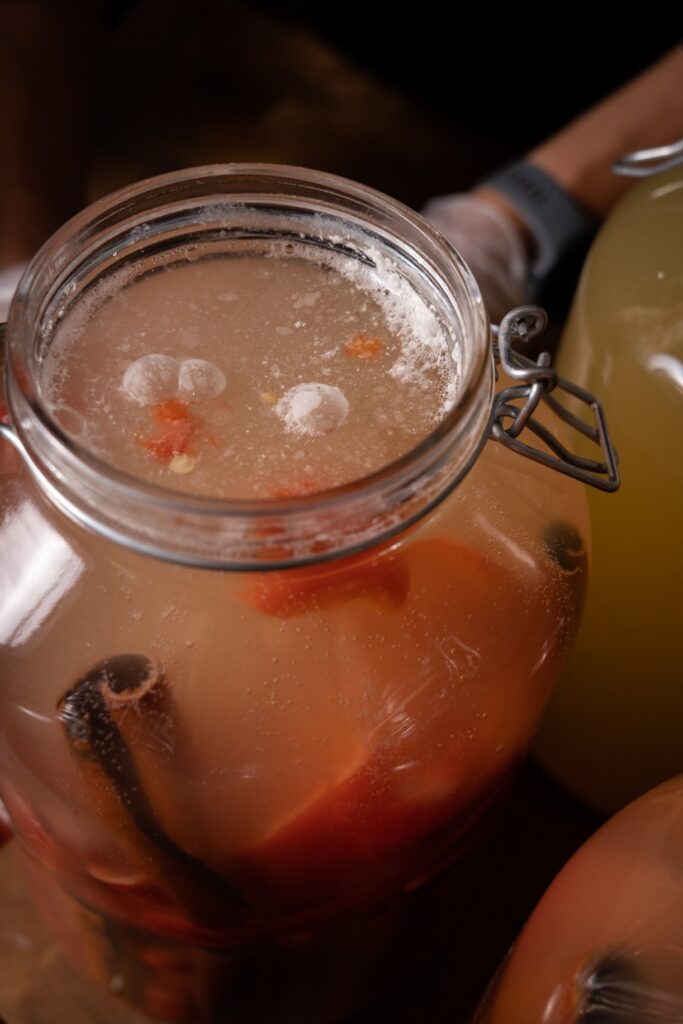 Color and Appearance:

Examine the color and appearance of the film. Mold typically appears as distinct patches with noticeable colors, while yeast or harmless residues may have a more uniform or thin film-like appearance.
If you suspect that the white film is mold, it is generally recommended to err on the side of caution and discard the batch. Mold can produce toxins and may pose health risks if consumed. Remember that your safety is paramount, and starting a new batch with proper fermentation practices is the best approach.
To prevent mold growth in the future, ensure cleanliness and hygiene throughout the fermentation process. Use clean utensils and fermentation vessels, maintain proper salt or acidity levels, and keep the vegetables fully submerged in the brine or liquid.
If you are uncertain about the nature of the white film or have any concerns, it is advisable to consult a food safety expert or experienced fermenter for further guidance.