Ricotta Bruschetta is a delicious and easy-to-make appetizer that is perfect for any occasion. Made with creamy ricotta cheese, toasted bread, and topped with sweet and spicy roasted cherry tomatoes, this dish is sure to impress your guests. The sweetness of the honey and the heat of the Tabchili Hot Sauce paste balance out perfectly to give a unique flavor profile. 
The fresh basil leaves add a nice touch of freshness to the dish. This recipe is a crowd-pleaser and can be easily scaled up or down depending on the number of guests you're serving. It's perfect for a summer evening or a casual dinner party. Try this recipe out, and you'll see why it's a favorite among food enthusiasts.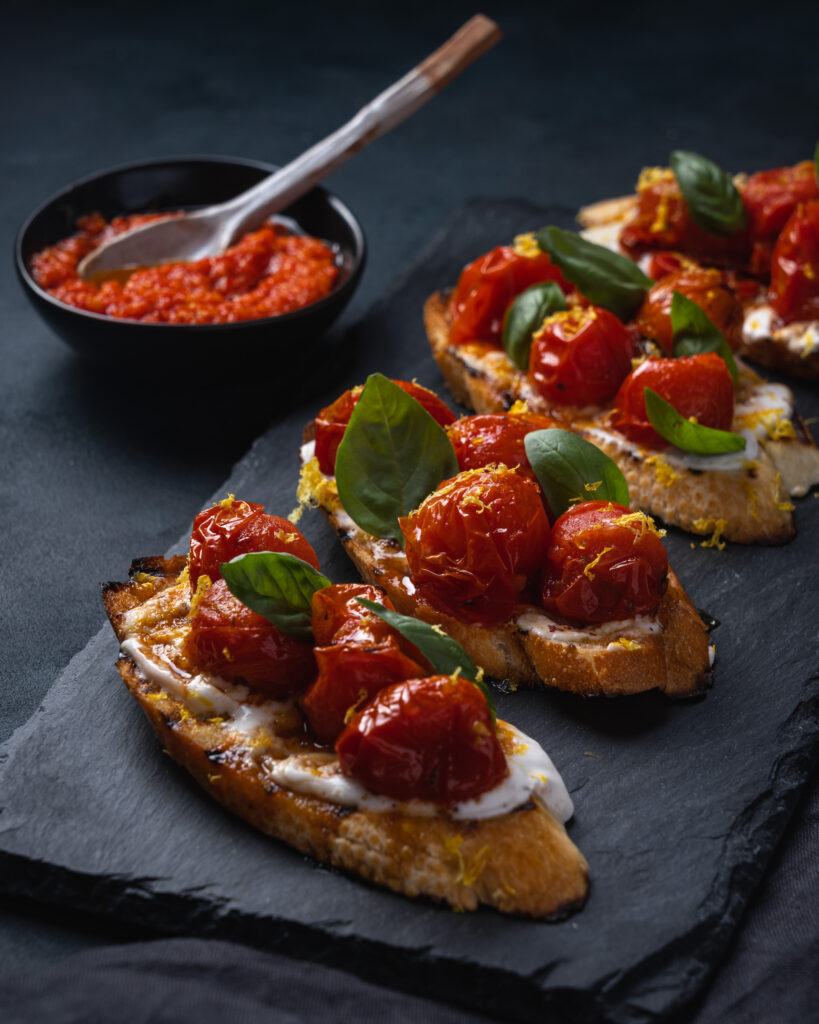 Recipe: Ricotta Bruschetta with Sweet and Spicy Tab Tomatoes
Amount Produced: 1 PORTION
Ingredients:
1 cup Ricotta Cheese
1/4 tsp Salt
1/4 cup Olive oil/Tabchili Hot Sauce Oil
5 pcs Baguette BREAD (sliced)
Fresh Basil (garnish leaves)
2 g Lemon zest
1/4 tsp Tabchilli Oil
Procedure:
Heat the grill pan over medium-high heat.
Whisk together the ricotta, salt, and 2 tablespoons of olive oil in a bowl.
Drizzle the remaining 2 tablespoons of olive oil on the bread slices and grill until golden brown and toasted, about 4 minutes per side.
Divide the ricotta among the bread slices and top with the roasted cherry tomatoes (see recipe below).
Drizzle with spicy Tabchili Hot Sauce honey (see recipe below) and scatter the basil leaves over the top.
Accompanying Recipes:
Recipe: Roasted Cherry Tomatoes
Amount Produced:
Ingredients:
250 g Cherry Tomatoes
8 g Garlic cloves (chopped)
2 sprigs Basil (chopped)
1/4 cup Tabchili Hot Sauce Oil
1/2 tsp Salt
1/4 tsp Cracked pepper
Procedure:
Preheat the oven to 375°F (190°C).
Spread the cherry tomatoes, garlic, basil, Tabchili Hot Sauce oil, and salt, pepper on a small rimmed baking sheet and toss well to coat.
Roast until the tomatoes have popped and are beginning to brown, 30 to 40 minutes. Allow to cool slightly.
Recipe: Tabchili Hot Sauce Spicy Honey 
Amount Produced: Varies
Ingredients: 
1/2 cup Honey 
1 1/2 tsp Tabchili Hot Sauce Paste 
1/4 tsp Salt 
1 sprig Rosemary
Procedure:
Combine the honey, Tabchili Hot Sauce paste, salt, and 2 tablespoons of water in a small saucepan.
Bring to a simmer over medium heat, then let simmer for 5 minutes.
Remove from heat to cool completely, and add rosemary for aroma.