The Spicy Steak Beef Wrap is a flavorful and satisfying dish that combines tender, juicy beef with fresh avocado, roasted peppers, and onions, and a tangy, spicy yogurt sauce. Wrapped in warm tortilla bread, this wrap is perfect for a quick lunch or dinner. 
The beef is marinated in a spicy CHILLI SAUCE DUBAI paste for added depth of flavor, and the roasted peppers and onions add a touch of sweetness and smokiness to the dish. This recipe is easy to follow and produces a delicious, hearty wrap that is sure to satisfy.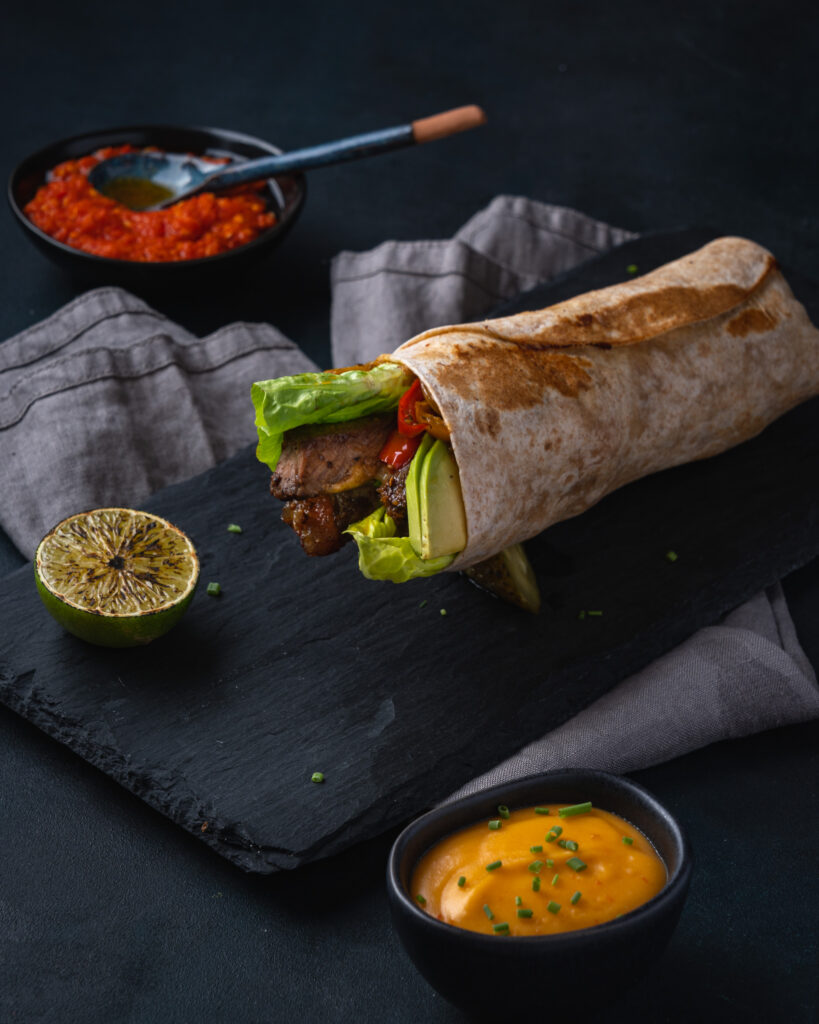 Recipe: Spicy Steak Beef Wrap
Amount Produced : 1-PORTION
Ingredients:
1 pcs Tortillia Bread(12inch)
30 g slice avocado
110 g Spicy Beef
20 g Cos letuce
20 g Roasted Mix Peppers and Onions
15 g Mix Cheese
20 g Spicy Yogurt Sauce
Procedure:
Reheat the bread for a few minutes in grilled
Sear the beef in pan, when is ready start to assemble the wrap
Top with spicy yogurt sauce and mix cheese.
Recipe: ROASTED PEPPERS AND ONION
Amount Produced: Varies
Ingredients:
120 g Red Capsicum
120 g Yellow Capsicum
150 g White Onion
1/2 tsp Smoked Paprika
1/4 tsp Dried Oregano
1/4 g Salt
1/4 g Pepper
Method:
Preheat the oven to 180 degrees
Slice the bell peppers and onion, place the sliced vegetables onto a baking sheet and toss with the oil and seasonings.
Bake in a single layer for 20 minutes, toss after 20 minutes, and then roast for another 10 minutes if needed.
Recipe: Spicy Yogurt Sauce 
Amount Produced: Varies
Ingredients:
2 cups Plain Yogurt
30 g Cucumber seeded diced small
1 tbsp Fresh Mint chopped
1 tsp Salt
1 tsp Paprika
1 tsp Turmeric Powder
1/2 tsp Cumin Powder
1/2 tsp CHILLI SAUCE DUBAI
1 tbsp Lemon Zest
Method:
In a mixing bowl,whisk all ingredient together and place in the refrigerator covered until serving time.
Serve garnished with mint leaves,fresh lemon zest and a sprinkle of paprika on top and chili oil
Recipe: Beef Spiced
Amount Produced: 
Ingredients:
150 g Beef steak
1/4 tsp Salt
1/4 tsp Cracked Pepper
1 tsp CHILLI SAUCE DUBAI Paste
1 tbsp Tabchili Hot Sauce oil
Method:
Rub all the spiced in steak each side and grilled in hot pan 4 to 5 minutes each side
Rest before you cut thin sliced.