Spicy Tomato Egg
Introducing the fiery and flavorful Spicy Tomato Egg recipe! This dish combines crispy sourdough toast, topped with homemade Roast Spicy Sauce, crumbly feta cheese, and a perfectly cooked egg. The avocado and red radish add a refreshing crunch, while the dukkah mix and parsley leaves add a nutty and herby touch. This is paired with a tangy, spicy yogurt sauce, making it a perfect breakfast or brunch option. This dish is perfect for those who crave a little heat in their morning meal!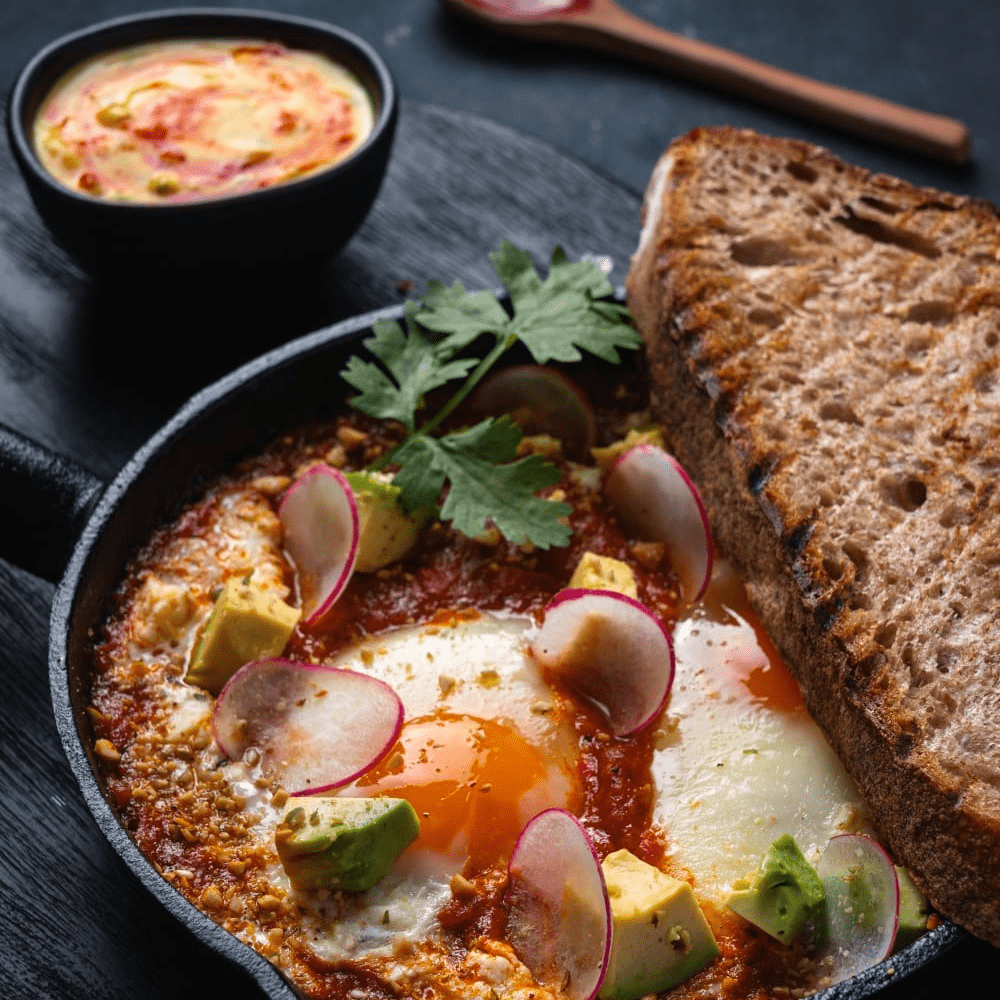 Recipe: Spicy Tomato Egg
Amount Produced: 1-Portion
Ingredients
1 pcs Sourdough Toast(slice)
200 g Roast Spicy Sauce (Recipe Below)
10 g Crumb Feta Cheese
8 g Avocado (diced cut) garnish
Parsley leaves(garnish)
2 g Red Radish (slice)
3 g Dukkah Mix (garnish) (Recipe Below)
20 g Spicy Yogurt (Recipe Below)
2 pcs Eggs
Procedure:
In a skillet or pan on medium heat, add the Roast Spicy Sauce and cook for 2-3 minutes, creating small holes to drop the eggs into.
Toast the sourdough in butter.
Garnish with the remaining ingredients.
Recipe: Roast Spicy Sauce
Amount Produced: 1050g
Ingredients:
800 g Tomatoes Quartered
150 g White Onion Rough Diced
20 g Garlic Cloves Whole
220 g Red Pepper Rough Chopped
3 g Cumin Seeds
5 g Oregano Dry pinch
Pinch Salt and Pepper(to taste)
30 g CHILLI SAUCE DUBAI oil
60 g Tomato Paste
170 g Peeled Tomatoes
1 tsp Paprika Powder
1/2 tsp Tabchili hot sauce paste
30 g Honey
Method:
Add tomatoes, onion, peppers, garlic, cumin, oregano, salt and pepper and tab oil in a baking tray, with no baking paper. Roast at 180 degrees for 10 minutes, remove, toss the tray to mix the veg, and roast again for another 7-10 minutes, or until soft.
Add roast veg to pot, then deglaze the roasting tray with some water to get all the roasted flavor from the tray, and add water to the pot.
Add all the ingredients to the pot and cook on medium heat for around 20 minutes until well combined.
Using a potato masher, smash all the veg in the pot. Consistency should be quite thick, chunky, and rustic.
Season to taste.
Set aside and cool down for at least 30 to 1 hour.
Then blend the sauce, using the pulse only to keep it chunky.
Recipe: Dukkah Mix
Amount Produced: 770g
Ingredients:
400 g Macadamia
300 g Hazelnuts
60 g Sesame seeds toasted
4 g chili flakes
2 g crack pepper
7 g cumin seed
5 g coriander seeds
20 g sumac powder
10 g salt
Method:
Pan roast the cumin seed and coriander seeds.
Use the mortar for the roast cumin and coriander seeds.
In a baking pan, mix all the ingredients and roast in the oven at 165 to 170 degrees for 8 to 10mins
When it is done, chop them all and taste before serving.
Recipe: Spicy Yogurt Sauce
Amount Produced: 550g
Ingredients:
2 cups Plain Yogurt
30 g Cucumber seeded diced small
1 tbsp Fresh Mint chopped
1 tsp Tabchilli Hot Sauce paste
1/2 tsp Lemon Juice
1/4 tsp Salt
1/4 tsp Pepper
Method:
Mix together yogurt, cucumber, mint, Tabchilli Hot Sauce paste, lemon juice, salt, and pepper in a bowl.
Taste and adjust seasoning as desired.
Chill in the refrigerator for at least 30 minutes before serving to let the flavors meld together.