Indulge in the ultimate breakfast experience with this MASHY AVO TOAST recipe! Imagine biting into a crispy piece of buttered sourdough, topped with a creamy and dreamy avocado mash, a spicy cashew pesto, feta cheese crumbs, toasted sesame seeds, pomegranate seeds, mixed lettuce, lemon zest, our Dubai hot sauce, Tabchilili, and a sprinkle of dukkah mix.
It's a dish that's bursting with flavors and textures that will awaken your senses and make your taste buds dance. Perfect for a lazy weekend brunch or as a quick on-the-go breakfast, this recipe is sure to become a new favorite!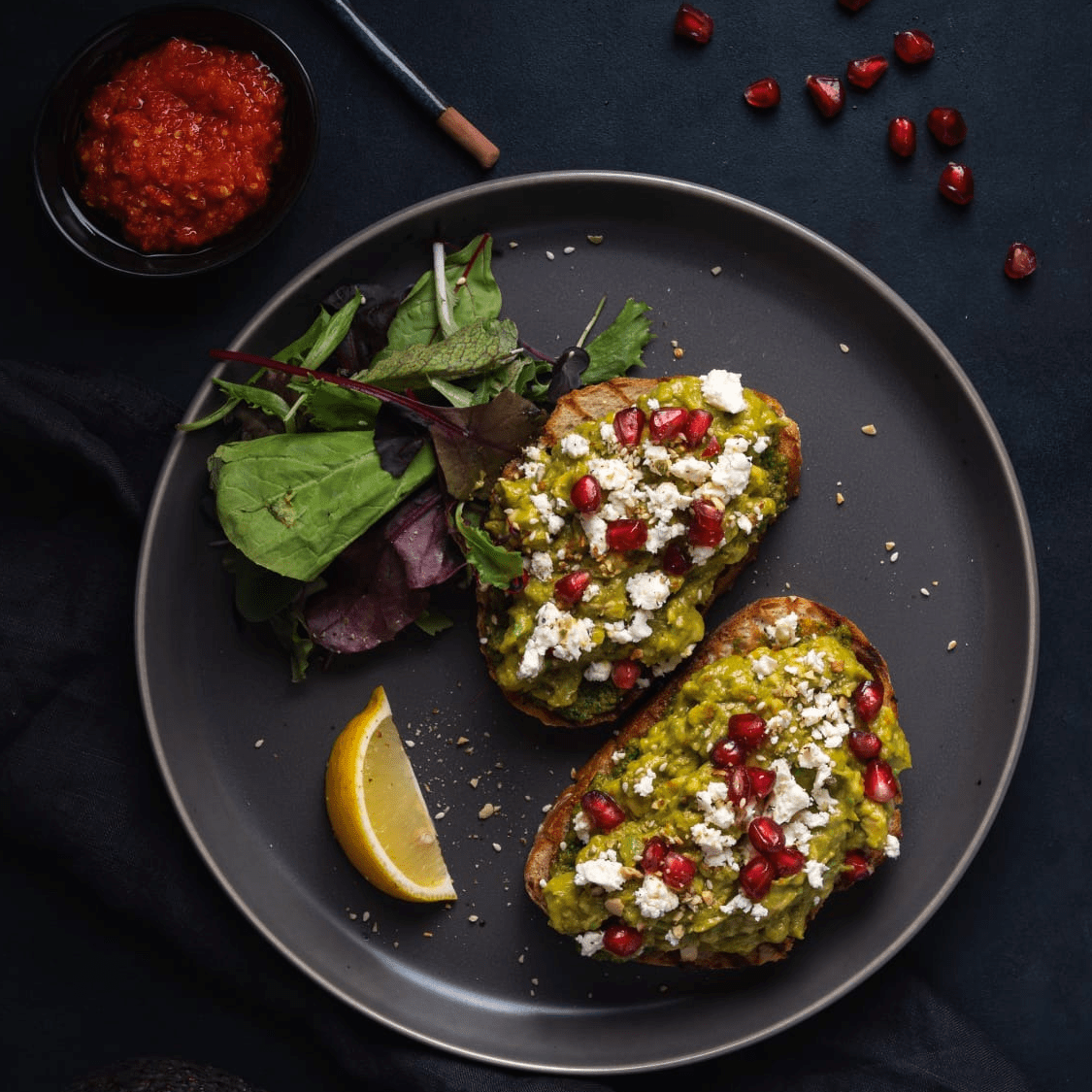 Recipe: SPICY MASHY AVO TOAST
Amount Produced: 1 PORTION
Ingredients:
2 slices Sourdough toast
100g Avo Mash (Recipe Below)
1 tbsp Spicy Tab Cashew Pesto (Recipe Below)
10g Feta Cheese Crumb
2g Toasted Sesame seed
15g Pomegranate seed
8g Mix lettuce
1pc Lemon Zest
1 tsp HOT SAUCE DUBAI Oil
Pinch chili flakes
5g Dukkah Mix (Recipe Below)
Procedure:
Toast the sourdough in butter or Extra Virgin Olive Oil.
Prepare your avo mash according to the recipe below.
Assemble the dish by spreading the avo mash on the toast, followed by a spoonful of spicy tab cashew pesto, a sprinkle of feta cheese crumb, toasted sesame seed, and pomegranate seed. Top with mixed lettuce, lemon zest, Tabchilli Hot Sauce oil, chili flakes, and dukkah mix.
Recipe: Dukkah Mix
Amount Produced: 770g
Ingredients:
400g Macadamia
300g Hazelnuts
60g Sesame seeds (toasted)
4g chili flakes
2g cracked pepper
7g cumin seed
5g coriander seeds
20g sumac powder
10g salt
Method:
Pan-roast the cumin seed and coriander seeds.
Use a mortar and pestle to grind the roasted cumin and coriander seeds.
In a baking pan, mix all the ingredients and roast in the oven at 165 to 170 degrees for 8 to 10 minutes.
Once done, chop them all and taste them before serving.
Recipe: Mashy Avo Mix
Amount Produced: 1 PORTION
Ingredients:
100g Avocado (chunky mashed)
1 tbsp Lemon juice
1 tsp Olive Oil
1 g Chopped parsley
1/4 tsp Salt
1/4 tsp Pepper
Method:
Place all ingredients in a mixing bowl and mash with a fork, making sure to leave some chunks.
Taste before serving.