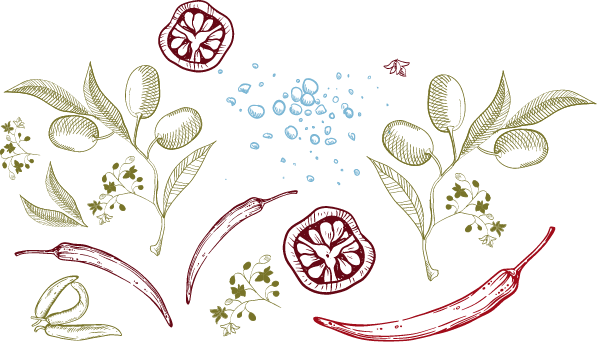 Tabchilli
Ingredients
The ingredients that make Tabchilli as a base have been selected for the heritage, taste and craftsmanship in harvesting them ; knowledge that has been passed through more than 100 generations from different hands on the same ancient lands.
Chilli
Also known as Thai chilli bird, bird chilis or bird's-eye chilis, or prik kee noo, these tiny 1 to 1 1/2-inch chilli's range in color from green to red and are at 100,000 scoville heat.
Fleur de Sel
Fleur de sel are the distinctive pyramid-shaped crystals that rise to the top during the evaporation process in Salt ponds. Like a delicate flower they bloom and float on the surface and must be gently harvested by hand; containing no gypsum or other impurities from the sea.
Extra Virgin Olive Oil
Extra virgin olive oil is the least-processed, freshest olive oil on the market. To maximize freshness, extra virgin olive oil is often made via cold press or stone press. This means no heat was used in the oil's production. Avoiding heat is one of the best ways to preserve the polyphenols and other antioxidants in olive oil